Biography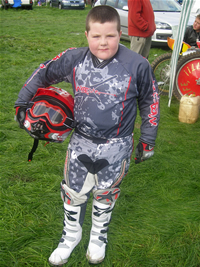 I started to ride motorcycles at the age of 3, when I got my 1st bike which was a 50cc quad, I used to ride that off road on farms, official motocross practice tracks and also on nearby pilling beach where my father used to set me out a circuit using cones for me ride through to develop my bike control.
At the age of 5 I got my 1st 2 wheeled motorcycle which was a Chinese mini of the Harley Davidson, after 2 weeks of riding, continually digging my foot pegs into the ground due to me riding the bike more erratic than it was designed, my mum and dad bought me my 1st off road bike. This was a Yamaha PW50!!!
I had a go on mini moto's at Lucky Devils in Colne Lancashire, but I didn't really want to ride short circuit at that time, also due to my age I could not race them either!!!
In October 2006 at the age of 7 my dad decided to enter me in a race with "The Lancashire Grass Track Junior Riders Club" at an event in Much Hoole Nr Preston. I rode my PW50 which by now i was too big for, but the idea was to see if i enjoyed racing - which I did. I finished 7th out of 10 in my very 1st race!! against riders who had raced before and I was on a pw50 which was not competitive and I was to big for!!!
A week later my Mum and Dad bought me my 1st motocross bike a KTM 50 LC Pro Senior which had been prepared by top KTM mechanic Paul Would.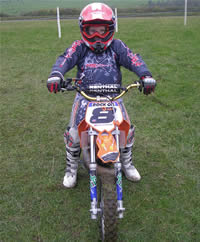 I raced this for the 1st time at an event in Yorkshire with "The Yorkshire Grass Track Junior Riders Club" for which I had a credible 4th place finish on the new bike!! this was only my 2nd ever race!!
I am very lucky that I have the full support of my family and my dads mechanic skills who meticulously prepares my bike for every outing, as well as him growing up in the off road world he has worked for British Super bike teams, for privateer and factory in both Superbikes and road racing to include the Official Hawk Kawasaki Factory team in 2006.
I Would like to thank my Mum and Dad for all their help and support, Paul Would of PJW race-prep for all the valuable information and a top class bike, Neil Morgan of Moggstar Extreme clothing.
2007 saw me compete in a full season with both Lancashire and Yorkshire Grass Track Junior Riders Clubs also travelling up and down the country visiting many other grasstrack and motocross clubs.
I finished 6th in the ACU National Grasstrack Championships missing out on a podium position due to a chain failure on the start line.
My high for 2007 was becoming the ACU North Western Centre 50cc Auto Cadet Champion along with the 65cc tile also.

Profile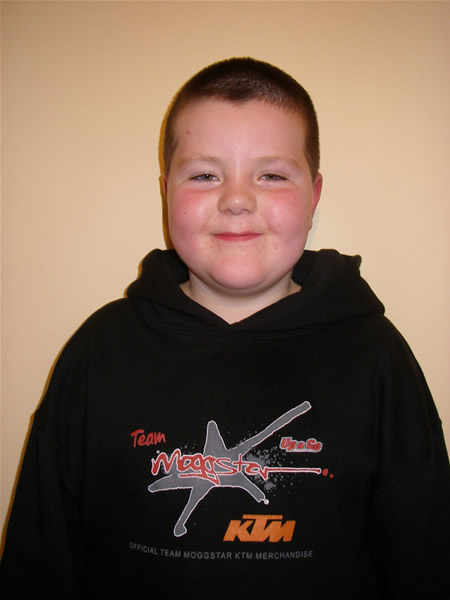 Rider Name: Deklan Lewis Brown
D.O.B: September 1999
Height: 4ft 6"
Home Town Preston Lancashire
Bikes1: KTM 50 LC Pro Senior
Rider no: 8
Rider Group: Auto
Clubs1: Lancashire Grass Track Junior Riders Club
Clubs2: Yorkshire Grass Track Junior Riders Club
Likes: Riding an MX bike
Dislikes: Losing
FAV BIKE: KTM's
FAV Game: The Simpson's (Playstation)
Ambitions: To be MX World Champion
FAV MX RIDER: Jim Murro
FAV MX TRACK: Trax Preston
FAV PROGRAM: Simpson's
FAV CHOCOLATE: Any
FAV FOOD: Sui Mai
FAV Club: All that support children
FAV CLUB RIDER: Max Flinders
FAV SCHOOL LESSON: Swimming
FAV Movie: Full Monty
FAV song: Top loader Dancing in the Moonlight
FAV Sport: MotoX, Swimming
Pet Hates: my dad pestering me to try foods i don't like