---
February 2009
Deklan will take to the track with UK sensation Danny Tollet, He will be spending time training to ensure he is ready for the season ahead.
January 2009
2009 will kick off this year with Deklan spending time over at Armthorpe mx track practicing for the season ahead, with a mixture of Motocross and grasstrack it is looking to be an exciting year ahead roll on!!
KBC and Deklan will continue their relationship throught 09 with again a great Sponsorship package provided ny KBC Helmets...
July 2008
Deklan competed on 5th July in the ACU National Grasstrack Championships at Leamington Spa, in Warwickshire.
He competed on his KTM 85 machine in the event to finish a fine 3rd Place taking that step onto the podium of which he narrowly missed out on last year.
March 2008
Deklans first meeting was a great success, he took to the bigger machine well to take a creditable 3rd place at the 1st round of the east Midlands Championship at Tallington with the Burton & Leicester Grasstrack Club.
February 2008
Sponsors show there interest and support in Deklan - 2008 will see Deklan sponsored by KBC Helmets, NGK Spark Plugs, Rock Oil, Active8, Teng Tools, Did chains, Moggstar Clothing and PJW Race-Prep.
January 2008
2008 season will see Deklan upgraded to an MX85 machine after evaluation from the ACU it was decided he will move up a class which he would only normally compete in 12 months later.
Deklan will ride a Moggstar KTM 85 built by his father and engine prepared by top KTM mechanic Paul of PJW Race-Prep.
Sunday 7th January Deklan spent the day on the LGTJRC Stand at the G-Mex giving out promo leaflets for the Club and speaking to the public about his and the Clubs racing.
He was joined on the stand by Coronation Streets "Bill Webster" played by Peter Armatidge who is a keen motorcyclist himself and has been involved in off road racing in the past!! Deklan said 'he'd enjoyed the day particularly having some photo's taken with the Corry Star' which will be in the next issue of the Speedway Star.
Deklan to visit Motorcycle show at G-Mex Manchester!!
Deklans KTM will be on display on the Lancashire Grasstrack Junior riders Club Stand during the weekend 5th - 7th January, you will also be able to say Hi to Deklan on Sunday who will be there all day on the stand helping out to promote the club and chat to the show visitors.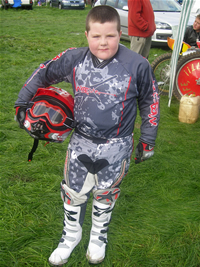 NOVEMBER 06
Deklan makes journey South to the Dirt Bike show at the Stoneleigh Showground Warwickshire.
This is the place to see the latest dirt bikes and quads from Honda, Kawasaki, Suzuki and Yamaha, alongside specialist European manufacturers including KTM, Gas Gas and Aprilia. BMW will be joining them for the first time, with their 175kg/105bhp BMW HP2 Enduro, while GoBlade will be showing their 28bhp electric moto crosser.

There is plenty to see for the growing number of Adventure Sport motorcycle owners. The organisers have invited two of the UK's foremost adventure motorcyclists to give visitors an opportunity to talk to the experts. Nick Sanders is the fastest man around the world and is currently organising a motorcycle tour to Timbuktu! Patsy Quick is the first, and only, British woman to complete the Dakar Rally. What these two can't tell you about having an adventure on a motorcycle isn't worth knowing! Meet them both at the Dirt Bike Show.